Solo
Northwest Region
New to Solo / Autocross?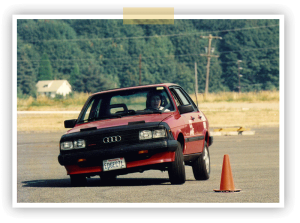 What is Solo / Autocross?
Solo, more commonly known as Autocross, is a low-to-medium speed, timed driving competition. A course is marked out with traffic cones on a large paved surface that is usually fairly flat. Competitors drive through the course one at a time, each trying to be the fastest person to complete the circuit. Timers record laps down to the thousandth of a second, and each person gets 3-4 tries at the course during competition. Speeds are around 20 to 60 MPH, with very little risk to either the car or participant. To see some in-car footage from our region check out the videos below.
Autocross rewards precision driving—competitors who incorrectly navigate the course or hit the cones out of their boxes are given time-penalties for that lap. Each driver's single best lap-time is used to determine class winners. Autocross is an "amateur" sport, there is no prize money, but NWR-SCCA presents trophies at each event.
NWR-SCCA allows passengers on competition runs, meaning you can ride with other drivers and someone ride with you—one exception for safety, novices are not allowed to ride with novices. Don't worry about not knowing exactly what to do – our Novice Chairs and other experienced drivers will be glad to help you through the day and give you some driving tips as well.
What do I need to bring to an event?


Your valid driver's license

cash or checks accepted



last 10 years or newer Snell rated helmet

Loaner helmets are available. Helmets with only a DOT rating are not allowed due to our insurance requirements.



Whatever you need to "be prepared" for the weather

golf umbrella, rain suit, tarp, extra water, food, suntan lotion, etc.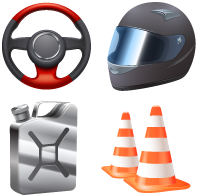 Just about any car can compete in autocross—cars are subject to an onsite safety tech inspection. To avoid any surprises onsite see section 3.3.3 Safety Inspections in the SCCA rule book. https://www.scca.com/pages/solo-cars-and-rules for more information.
Cars are assigned to classes depending on their typical performance and any modifications they have. People can have fun autocrossing just about anything. The emphasis is on car handling and driver skill – not just horsepower or raw speed. Cars used for autocross range from un-modified or lightly modified to heavily modified. There are many experienced people at every event that can help answer questions about the rules.