Club Racing
Northwest Region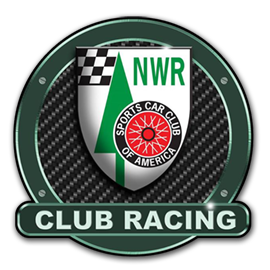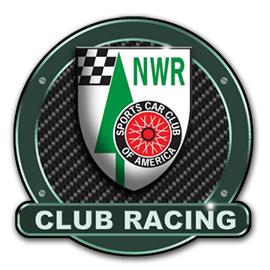 It is our goal to provide NWR SCCA members and non-members alike a source of useful information about the NWR SCCA Road Racing activities. we hope you will find links to all the racing information you might be looking for. If you feel that there is something missing, please feel free to email the Web Master.
This is, after all, the Friendly Region.
We want our web site to reflect the same friendly atmosphere that you will find at our events.
Volunteers Needed!
for Portland International Raceway
Road Racing Events
Please join us for a Volunteer Worker Fair:
Saturday, March 12 at 9:00am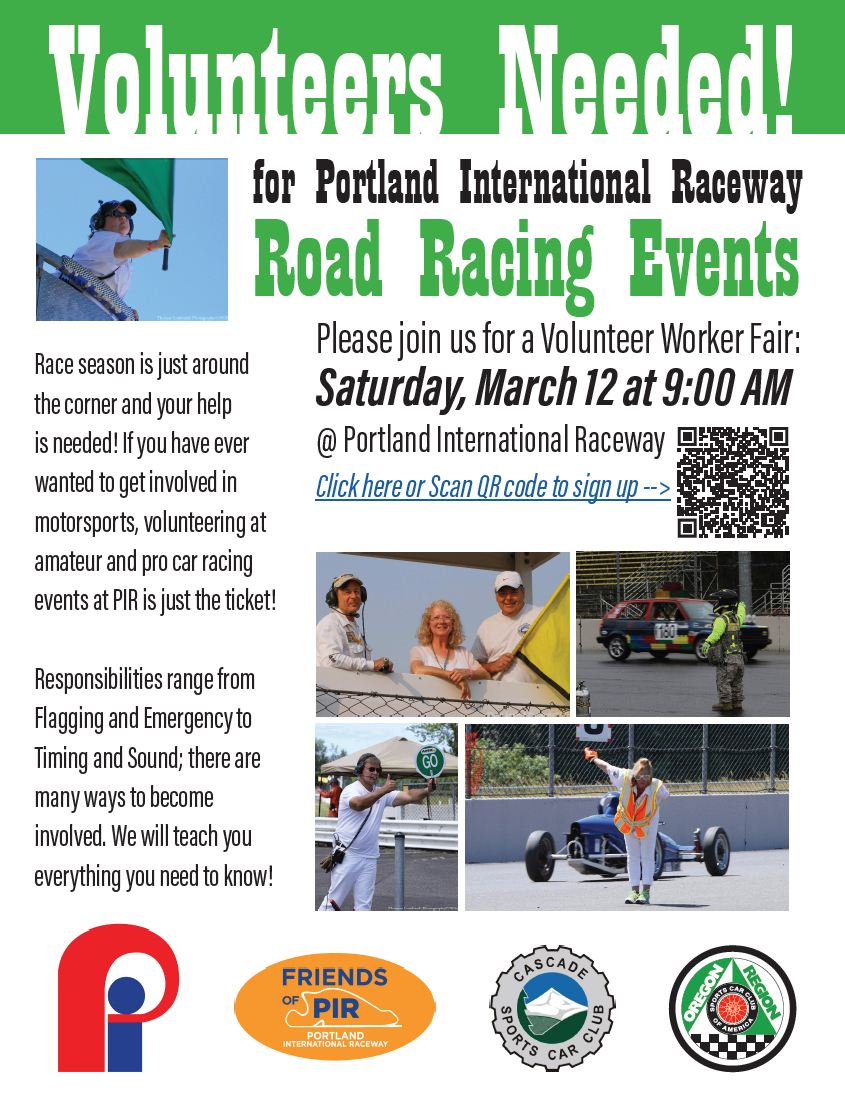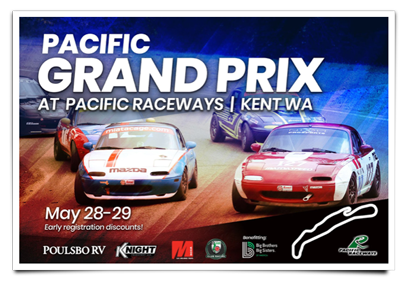 The Pacific Grand Prix Majors Race will be returning in 2022 to Pacific Raceways on Memorial Day weekend, May 28-29th. Race on Saturday & Sunday, and drive home Monday. This will serve as both a National and Regional event allowing everyone a place and class to race.
The Pacific Grand Prix will serve as the final round of the SCCA Western Conference Majors Championship. Giving drivers & teams their final chance to earn points to try and claim the West Coast title.
🏁 Registration is now open. Take advantage and get a $65 discount by registering early!
Driver Registrer Volunteers Register  
Arrangements have been made to provide storage at Pacific Raceways after the Portland Super Tour for teams to leave their rigs at the track in Seattle if needed.
We are excited to welcome Poulsbo RV & Knight Transport LLC as our main event sponsors. The event will be benefiting Big Brothers & Big Sisters of Puget Sound. Come join the fun at one of America's most historic and fun tracks nestled in the woods of Kent, Washington, right outside of Seattle. 
Stay tuned for more updates. In the meantime, get registered, invite your friends, and mark your calendars for one of the Northwest's premier racing events that welcomes everyone to participate.
We look forward to seeing you! 

-The NWR SCCA Team 
NWR Pacific Grand Prix SCCA Majors
Results
2021 Pacific Grand Prix US Majors

Get your competition license at ProFormance Racing School
Get your competition license at ProFormance Racing SchoolSports car racing with Northwest Region, SCCA is just as exciting as it looks. Our home track is Pacific Raceways, and this challenging course can take years to truly master. One of the many things that sets Northwest Region apart from the competition is our relationship with ProFormance Racing School, based at Pacific Raceways. Don Kitch is the owner and Chief Instructor at ProFormance, Kitch and his staff can take you from your first on-track experience through earning your amateur competition license to professional-level racing.
"We started ProFormance in 1994 as a High Performance and Competition Licensing School," Kitch says. "The school licenses for SCCA, ICSCC, and SOVREN. We highly encourage our graduates to join SCCA as it is one of the largest most recognized sanctioning bodies in motorsports."
In 2019, ProFormance licensed 65 drivers to enter the amateur racing community. ProFormance is very diversified conducting training/curriculum in multiple disciplines; automobile manufacturer promotional programs, new car buyer clinics, HPDE "Sport Driving," corporate team building, law enforcement training, television commercials, and teen street survival skills clinics.
ProFormance offers several two-day competition licensing schools throughout the year, starting in March at the outset of the competitive racing season. As the only fully accredited and professional competition licensing school in Washington State, ProFormance is the preferred method to learn the skills necessary to race successfully at the amateur and then professional level. "You couldn't be in a better place in the nation to get started," Kitch insists. "The support network here in the Northwest is incredible The core instructor staff at ProFormance has a combined 125 year's experience at the professional and amateur level of racing and is committed to helping you get the best start possible.
The two-day SCCA competition license school exposes novice racers to every challenge they will face, both mental and physical, on and off the race track. Class sizes are small and the instruction is individual, culminating in an actual race between the students in the class. Graduates of the course are qualified for an SCCA, ICSCC, or SOVREN racing license.
"We cover all elements of driving in competition: flags, race starts, overtaking and being overtaken, mental and physical disciplines to racing in the rain, car preparation, driver's safety equipment, and race weekend protocols," Kitch explained.
One big part of learning to race is understanding the costs to get started and become competitive.
"Many people are surprised at how financially reasonable it is to get a start, especially on a race rental program," Kitch states. "I highly encourage our novice drivers to get involved in our race rental program for their first few races to make sure that they like this sport. It's good to rent a car once or twice before they go out and make the commitment financially to buy a car, trailer, and a tow vehicle."
Beyond the simple mechanics of racing, Kitch also introduces new drivers to the racing community.
"Our goal, is to make sure you leave the school with no questions unanswered, providing you a clear guide to where you are going, and how you are going to get there," Kitch said. "Our alumni have gone on to compete in all forms of motor racing, open-wheel formula car racing, GT, and prototype cars. They've raced at tracks all over the world, including Sebring, Watkins Glen, and WeatherTech Raceway Laguna Seca in the USA and the Circuit des 24 Heures du Mans, Nürburgring Grand Prix Track, and Silverstone Circuit in Europe."
To find out more about getting your competition license, or to get the coaching you need to race for the win, visit www.proformanceracingschool.com or call Don Kitch at (253) 630-5130.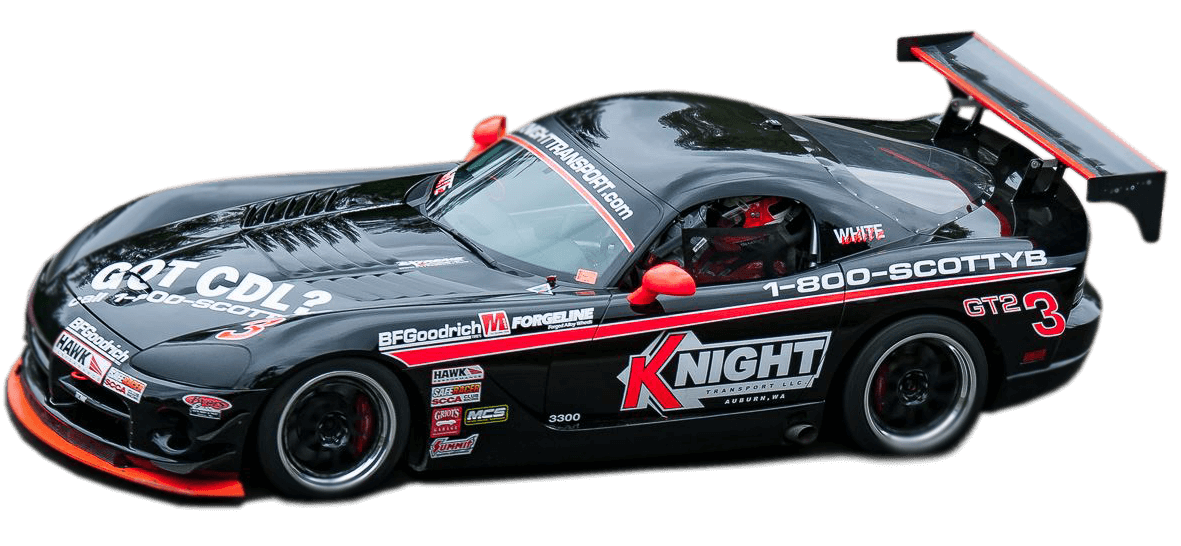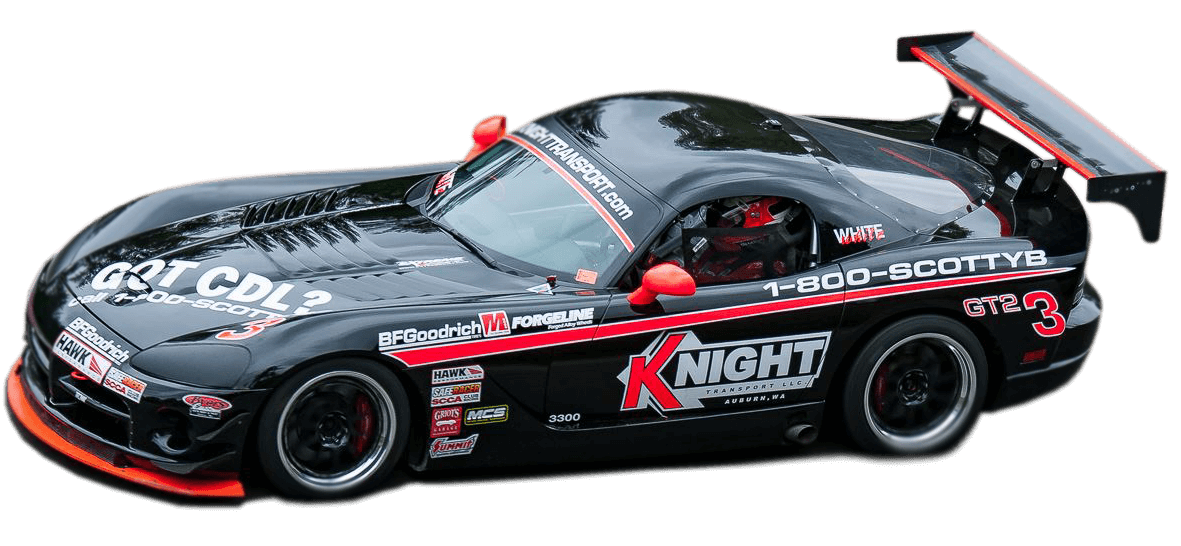 IF EVERYTHING SEEMS UNDER CONTROL, YOU'RE JUST NOT GOING FAST ENOUGH.