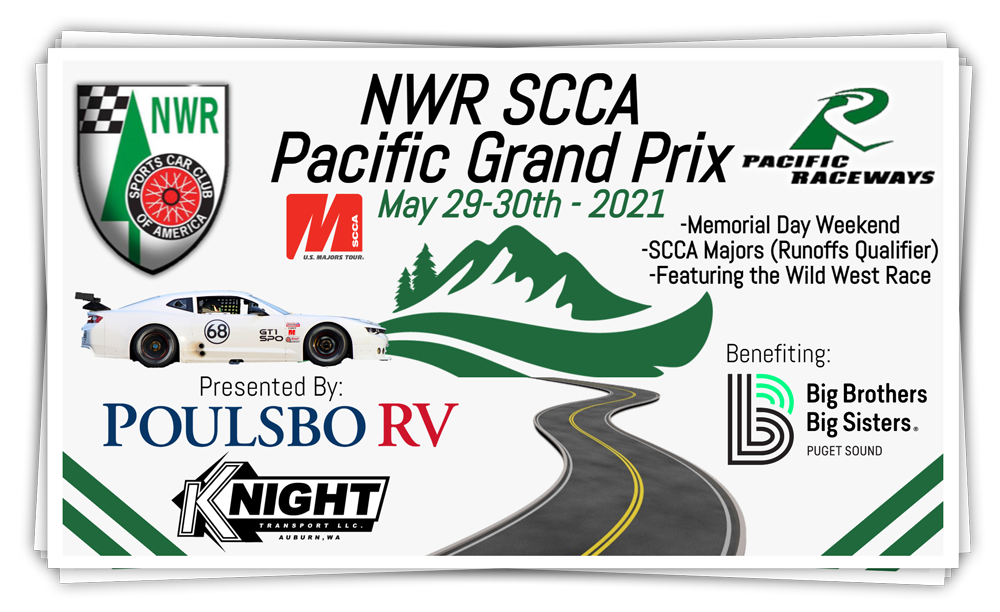 The NWR Pacific Grand Prix SCCA Majors Race will return to Pacific Raceways on May 29-30th, Memorial Day weekend. Race on Saturday & Sunday, drive home Monday! Presented by Knight Transport LLC and Poulsbo RV benefiting Big Brothers Big Sisters of Puget Sound. Featuring the Wild West Race. In addition there will be a dedicated Time Trials event Saturday evening.
Important Information:
-Secure rig & trailer parking at Pacific Raceways in between Portland Super Tour and Pacific Grand Prix Majors (25 min uber ride to the airport)
-Red Lion Inn & Suites of Auburn provides a special discount for SCCA Racers (12 minute drive to the track)
-Test day with instruction available Friday through Proformance
-Lapping Day with Proformance Monday following the race weekend
-Fuel will be on site
-Regional cars will be allowed to race. Contact us to discuss where your car would best fit for classification.
-Any current ICSCC OR SOVREN Full Comp Licensed holders who have not had an SCCA license the past 3 years are eligible to receive a free SCCA Full Competition License AND SCCA membership valid through 12/31/2021.